About Us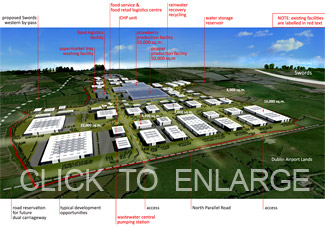 Our vision for FoodCentral is to develop a sustainable food-centric business and logistics hub for the domestic and export markets that facilitates and is a catalyst for consolidation, collaboration and co-opetition to enhance competitive advantage.
A masterplan for the development of FoodCentral, a 113 hectare food industry park located beside Dublin Airport has been prepared in consultation with Fingal County Council, following on from the zoning of the site as approved for food park development in the Fingal County Development Plan 2011-2017.
The Masterplan has been compiled by leading project design talent in Ireland. The participants include: DPM, design and project managers to the food industry; Brady Shipman Martin, planning and landscape specialists; Arup, consulting engineers, and; Finnegan Menton, commercial development consultants.
Located immediately beside the airport, close to Dublin Port and with excellent M1, M2 and M50 motorway access, FoodCentral provides a strategically located gateway to domestic and export food markets for Irish and overseas companies. There has been food production within FoodCentral lands since the 1940's and over the last ten years over €30m has been invested in developing buildings, glasshouses and infrastructure within FoodCentral.
Businesses currently located in FoodCentral and employing over 1,000 people include a number of Keelings and Donnellys businesses as well as the foodservice company, Brakes. The existing businesses in the food park encompass a range of growing, food related processing and packing, foodservice and logistics operations. These diverse businesses are both competitors and co-operators in a number of respects e.g. shared services, joint purchasing, inter-company trade.
FoodCentral's ambition is for food and drink businesses locating within the park to foster co-location synergies and benefits. A wide scope of activities can be optimised to commercial and financial advantage. These activities include manufacturing, processing, logistics, innovation, research and development, sustainability, marketing, exhibition and administration.
FoodCentral is underway and now provides opportunities for the phased development of a diverse range of food and drink related business activities and operations.