Opportunities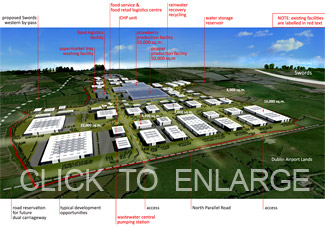 We encourage you to explore the opportunities that FoodCentral's development may offer your business ambitions. The FoodCentral team will be happy to discuss and custom design options.
"Our location in Food Central allows us easy access to Irelands primary road network, our customers and our suppliers while also allowing us to conduct our business in a green, sustainable way"

Ciaran Donnelly, Managing Director, Donnellys Fruit & Veg

"We welcome investment in the development of food related businesses in FoodCentral. Fingal, the food county, is a great location in which to develop a dynamic food related business in an attractive and supportive environment".

David O' Connor, Fingal County Manager
As FoodCentral develops with both existing and new businesses, its potential to deliver an environmentally attractive food park, harnessing synergies, sharing services, generating new opportunities and adding value to the food and drink sector can be realised in an environment which will continue to generate a wide spectrum of sustainable jobs across the food and drink supply chain.
Electricity, gas, mains water supply and waste water connections are already present on site and there is strong potential for shared services options. Sites of varied sizes and configurations are available to suit requirements within the food park. The FoodCentral team will be happy to discuss and custom design options.
FoodCentral offers clients a range of options including site sale, design and build or lease options, shared services synergies, environmental efficiencies and cost savings ; all in an attractive, landscaped and secure food park.